Welcome to Splash And Swim..
Swimming Training Center
"A Swimmers' Paradise in Pamala"
Splash and Swim pool is situated at Pamala, an eco-friendly zone located in the suburbs of Thiruvalla town.The place is known for its calmness and tranquility. Splash and Swim is an oasis for those longing for a relaxing,refreshing and rejuvenating escape from the hustle and bustle of city life.
General Layout and design:
Separate pools for adults and children.
Potable water supply and proper sanitation facilities.
Lawn-beautiful and well maintained.
Availability of swim suits for boys,girls and adults.
Supervised coaching by skilled personnel.
High quality imported filtration plant for spotless and hygienic water.
Notable and easily accessible location.
Separate bathrooms for ladies and gents.
Walled grounds for safe and secure swimming.
Incredible services and facilities.
Management staff that are courteous and competent etc..
Facilities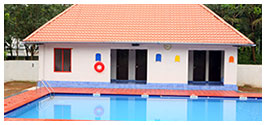 Swimming Facilities
The crystal clear water and the amazing temperature contrast to the atmosphere makes the pool inviting.
Photo Gallery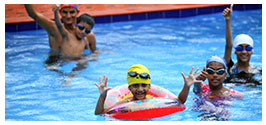 Splash & Swim pool is Situated at Pamala, an eco-friendly zone located in suburbs of Thiruvalla town. Click here for our photo gallery.