About Splash And Swim..
"Splash & Swim" swimming pool, owned by Mr.Isaac Thomas, provides a wonderful opportunity for people of all ages to master the art of swimming.The pool was inaugurated by The most Rev. Dr.Philipose Mar Chrysostom on the 27th of Dec. 2010

Our Focus:
To provide excellent health benifits such as cardiovascular fitness, increased muscular strengh & lung capacity, flexibility etc.
To assist you to develop life skills such as : sportsmanship, time-management, self-discipline, goal-setting and an increased sense of self-worth.
To provide relaxation and relief from stress.
To provide an exercise with very little joint strain.
To help you live longer and stronger.
Location
The Splash & Swim pool is located at Pamala in the Kunnamthanam Panchayath of Mallappally Taluk in Pathanamthitta District. It is situated 7kms from Thiruvalla in the Thiruvalla-Mallapally route via Paippadu and is only 9kms from Changanacherry.
Facilities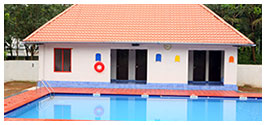 Swimming Facilities
The crystal clear water and the amazing temperature contrast to the atmosphere makes the pool inviting.
Photo Gallery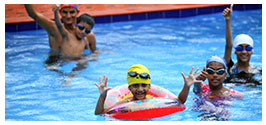 Splash & Swim pool is Situated at Pamala, an eco-friendly zone located in suburbs of Thiruvalla town. Click here for our photo gallery.